Cracker Barrel Country Store Releases: Neal McCoy's Pride Deluxe Edition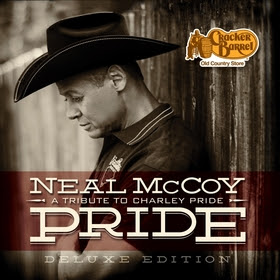 Album Available at All 633 Cracker Barrel Locations and CrackerBarrel.com
LEBANON, Tenn. (Oct. 31, 2014) – Cracker Barrel Old Country Store® will release the latest project in their exclusive music program, country music singer Neal McCoy's Pride: A Tribute to Charley Pride: Deluxe Edition, on Nov. 3. The CD is available exclusively in all 633 Cracker Barrel Old Country Store® locations and online at crackerbarrel.com. The digital album will also be available for purchase at select digital retailers. The album, which retails for $11.99 with 13 songs originally made famous by Pride, contains two exclusive bonus tracks that are not found on the original edition released last year by Slate Creek Records. The project was a labor of love for McCoy, who worked with Pride early in his career and built a lifelong friendship with the iconic performer.
"It's really neat to have this package," said McCoy. "It's a real tribute from me to Charley, and my way of just saying, 'Thank you for letting me get my foot in the proverbial door and giving me the opportunity to make my dreams come to life.' Charley told me years ago, 'Neal, if you put on a great show and be nice to people, you'll last a long time in this business.' I adopted that. And it has worked. It certainly did for him. So, thank you, Charley Pride. And thank you Cracker Barrel for allowing me to expand the album into a Deluxe Edition so I could share two more of my favorite Charley Pride songs. I hope everyone that comes to Cracker Barrel for a great meal will check out the album."
"Cracker Barrel is proud to join with Neal in paying tribute to the legendary Charley Pride with a Deluxe Edition version of his album that we know our guests will enjoy," said Cracker Barrel Marketing Manager Julie Craig.
The album features McCoy performing three songs as duets. He sings "I'm Just Me" with Raul Malo, "Roll On Mississippi" with Trace Adkins, and Pride's signature song, "Kiss an Angel Good Mornin'," with Darius Rucker.
Pride: A Tribute to Charley Pride: Deluxe Edition was produced by veteran music producer Garth Fundis who, as a young studio engineer, was present for many of Pride's original studio sessions with producer Jack Clement. The 13 songs on the album are:
1. "Is Anybody Goin' To San Antone"
2. "I'm Just Me" (duet with Raul Malo)
3. "Kiss an Angel Good Mornin'" (duet with Darius Rucker)
4. "Kaw-Liga"
5. "You're So Good When You're Bad"
6. "It's Gonna Take a Little Bit Longer"
7. "Roll On Mississippi" (duet with Trace Adkins)
8. "Just Between You and Me"
9. "Mountain of Love"
10. "Someone Loves You Honey"
11. "You're My Jamaica"
12. "Why Baby Why" (*)
13. "Let Me Live" (*)
(*) exclusive bonus tracks
The legendary Charley Pride is one of the country music's most successful singers, having achieved 29 No. 1 hits and three GRAMMY Awards (including Best Country Vocal Performance, Male in 1972). He was named the CMA Entertainer of the Year in 1971 and CMA Male Vocalist of the Year in 1971 and 1972. Pride joined the Grand Ole Opry in 1993 and was inducted into the Country Music Hall of Fame in 2000.
In 1981, Pride was introduced to McCoy after the younger singer won a nightclub talent contest in Dallas and soon hired the newcomer to be his opening act at his concerts. McCoy continued to work for Pride until 1986 when he left to pursue a recording contract. McCoy is best known for his two No.1 hits, "No Doubt About It" and "Wink," as well as for songs such as "For a Change," "They're Playin' Our Song," "You Gotta Love That," "Then You Can Tell Me Goodbye," and "The Shake." He has earned three Platinum and four Gold albums. In 2014, McCoy toured with Blake Shelton on the "Ten Times Crazier Tour." For more information, visit nealmccoy.com.
About the Cracker Barrel Old Country Store® Exclusive Music Program
Neal McCoy's Pride: A Tribute to Charley Pride: Deluxe Edition is the latest CD release in the Cracker Barrel Old Country Store® exclusive music program. Since 2005, Cracker Barrel has released CDs with a wide variety of artists, some of which have debuted in the top three spots on a range of Billboard's charts including Top DVD Music Videos, Top Country Albums, Top Contemporary Christian Albums and Top Bluegrass Albums. The Cracker Barrel Old Country Store® exclusive music program includes CDs with Alabama, Rodney Atkins, Mandy Barnett, Clint Black, Jason Michael Carroll, Steven Curtis Chapman, Dailey & Vincent, The Charlie Daniels Band, Ronnie Dunn, Edens Edge, Sara Evans, Bill Gaither, Vince Gill and Paul Franklin, Amy Grant, The Grascals, Merle Haggard, Alan Jackson, George Jones, Alison Krauss & Union Station, Montgomery Gentry, Russell Moore & IIIrd Tyme Out, Craig Morgan, The Oak Ridge Boys, Brad Paisley, Dolly Parton, Smokey Robinson, Kenny Rogers, The Secret Sisters, Ricky Skaggs, Michael W. Smith, Aaron Tippin, Randy Travis, Josh Turner, Wynonna, and the Zac Brown Band. For details, visit crackerbarrel.com.
About Cracker Barrel Old Country Store
Cracker Barrel Old Country Store, Inc. provides a friendly home-away-from-home in its old country stores and restaurants. Guests are cared for like family while relaxing and enjoying real home-style food and shopping that's surprisingly unique, genuinely fun and reminiscent of America's country heritage…all at a fair price. The restaurant serves up delicious, home-style country food such as meatloaf and homemade chicken n' dumplins as well as its made-from-scratch biscuits using an old family recipe. The authentic old country retail store is fun to shop and offers unique gifts and self-indulgences. Cracker Barrel Old Country Store, Inc. (Nasdaq: CBRL) was established in 1969 in Lebanon, Tenn. and operates 633 company-owned locations in 42 states. Every Cracker Barrel Old Country Store® location is open seven days a week with hours Sunday through Thursday, 6 a.m. – 10 p.m., and Friday and Saturday, 6 a.m. – 11 p.m. For more information, visit crackerbarrel.com.
# # #
Media Contacts:
For Cracker Barrel Old Country Store:
Cracker Barrel Media Relations
(615) 235-4135
Ebie McFarland
Scott Stem
Essential Broadcast Media
(615) 327-3259
ebie@ebmediapr.com
scott@ebmediapr.com